A new Innovative Research Group (INNOVATIVE) telephone survey shows the NDP leading in the Ontario election with 37% of the decided vote followed closely by the PC party at 34%.  The governing Liberals trail with 21%. The live-caller landline and cell phone survey was conducted from May 23rd to May 29th among a random sample of 611 Ontario residents, 18 years or older.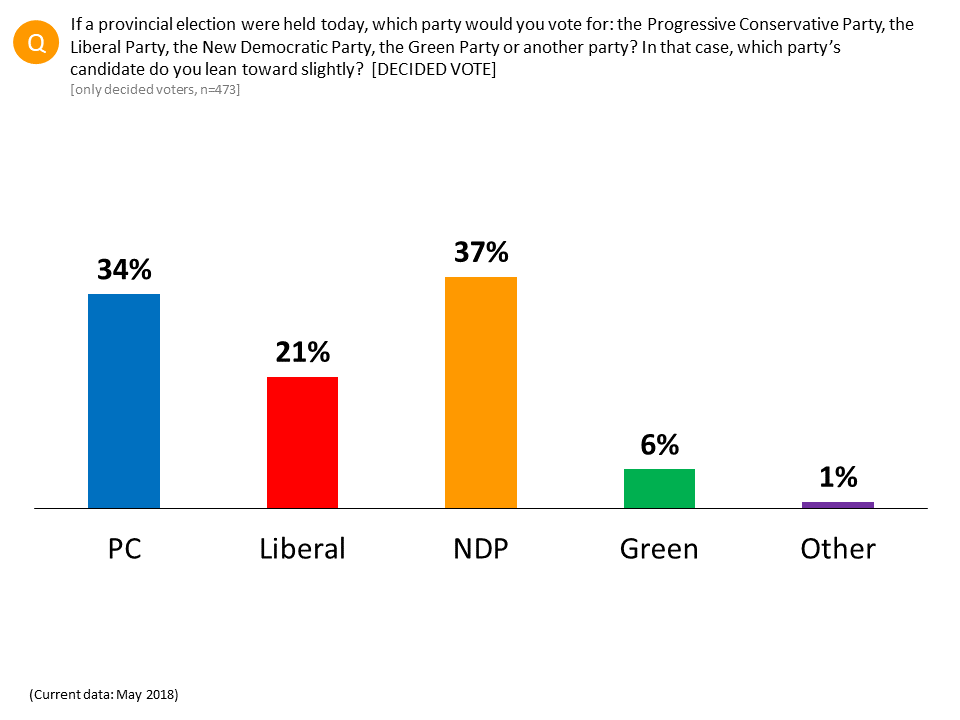 In April the PCs and NDP had similar sized pools of accessible voters while the PCs had three times as many strong supporters.  Fast forward a month and we now find the NDP with a 14-percentage point advantage on accessible voters and just four percentage points fewer core supporters.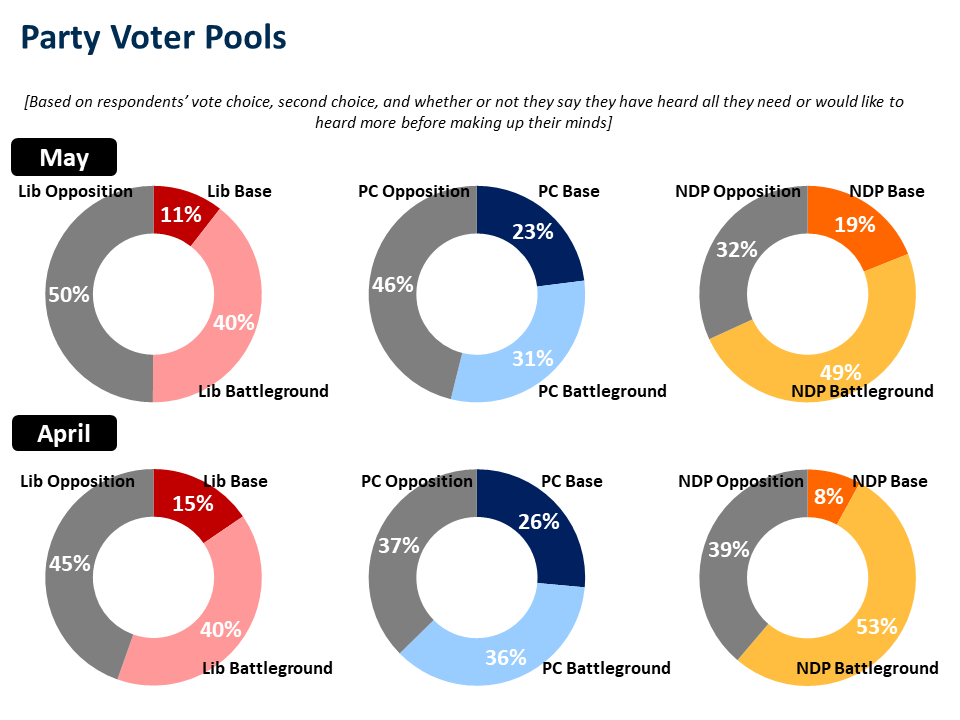 More than 7 out of 10 voters usually think of themselves as a supporter of one party or another.  The Liberals have the most identifiers at 28% followed by the PCs at 26% and the NDP back at 14%.  Strikingly, the NDP have the votes of 31% of Liberal identifiers compared to just 45% voting Liberal.  Both the NDP and PCs have the support of about 80% of their identifiers.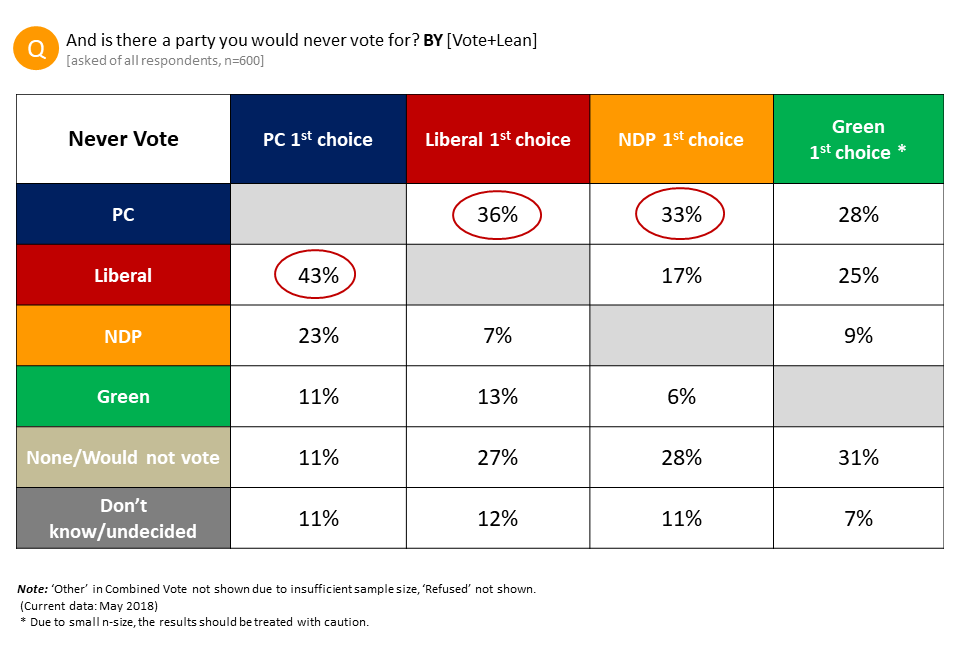 On leadership, Andrea Horwath has gained 12 points in favourables since our benchmark in March.  Kathleen Wynne is up four points, right on the margin of error.  Doug Ford has dropped 8 points in favourables while his unfavourables have risen 15 percent. Given these underlying changes, it is not surprising to see Andrea Horwath now leads as Best Premier at 30% with Doug Ford seven points back at 23%.  The current Premier trails at 14%.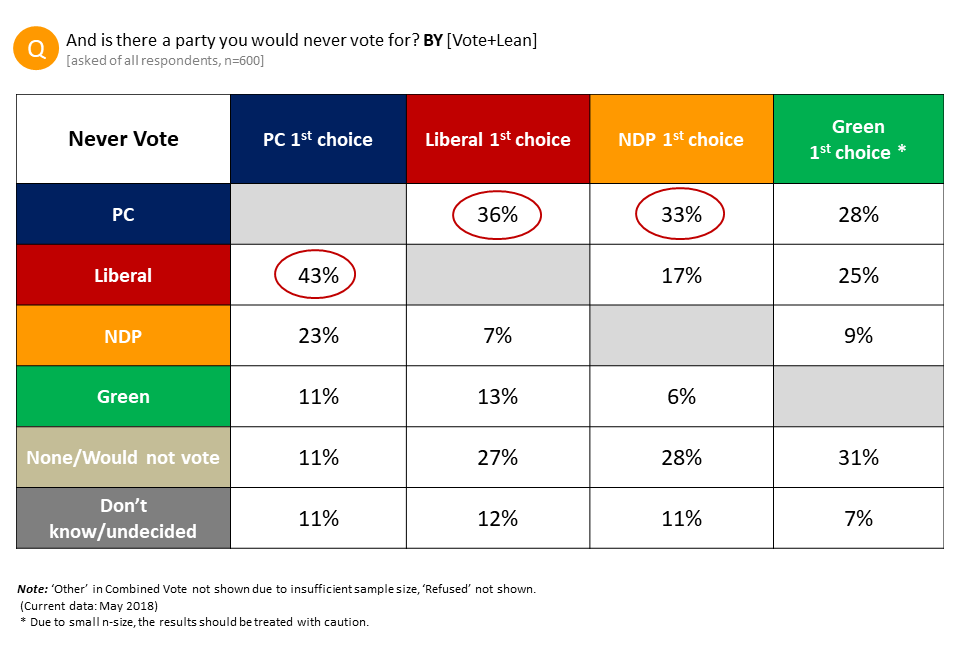 Voters in elections have to make two choices; which party they prefer and whether or not to actually vote.
We don't have strong voter turnout models in Canada, so we looked at the potential for respondents to actually vote three different ways:
How closely are voters following the campaign?
Did they vote last time?
Are they likely to vote next time?
The PCs have a marginal lead among the most generally attentive to the campaign, but the NDP has a stronger lead among voters who follow just a few issues.
We combined intention to vote with reported vote in the last campaign to break the sample into three groups – 39% who have both voted last time and definitely plan to do so again, 29% who didn't vote last time for various reasons but firmly plan to do so this time, and 32% who do not definitely plan to vote this time.
The PCs have a large 12-point lead among people whose intentions are matched by past actions.  The NDP dominate by 16 points among those who definitely plan to vote but didn't in the last election.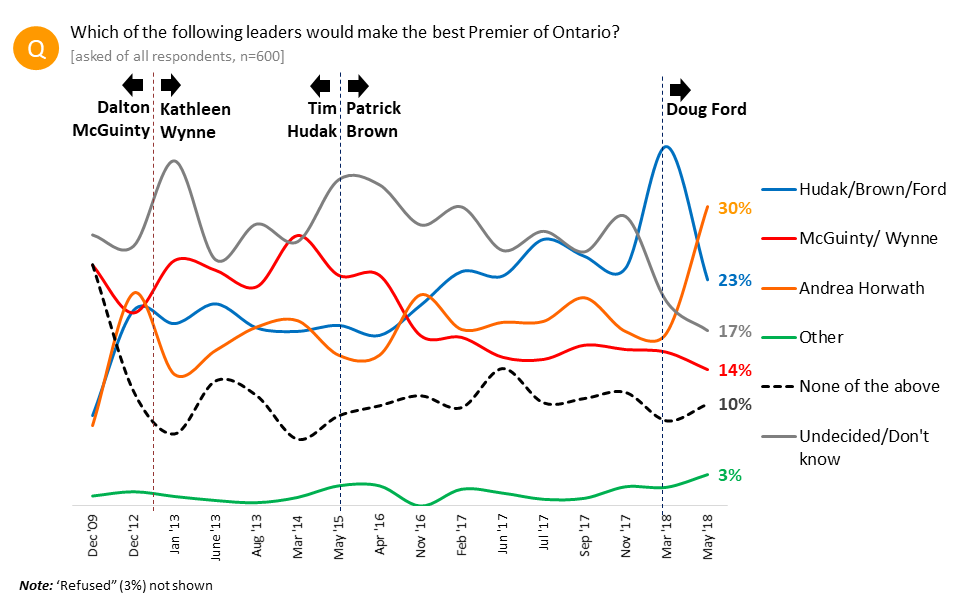 This telephone survey overlapped with an online survey so we did a comparison to see if there were any important differences in the samples.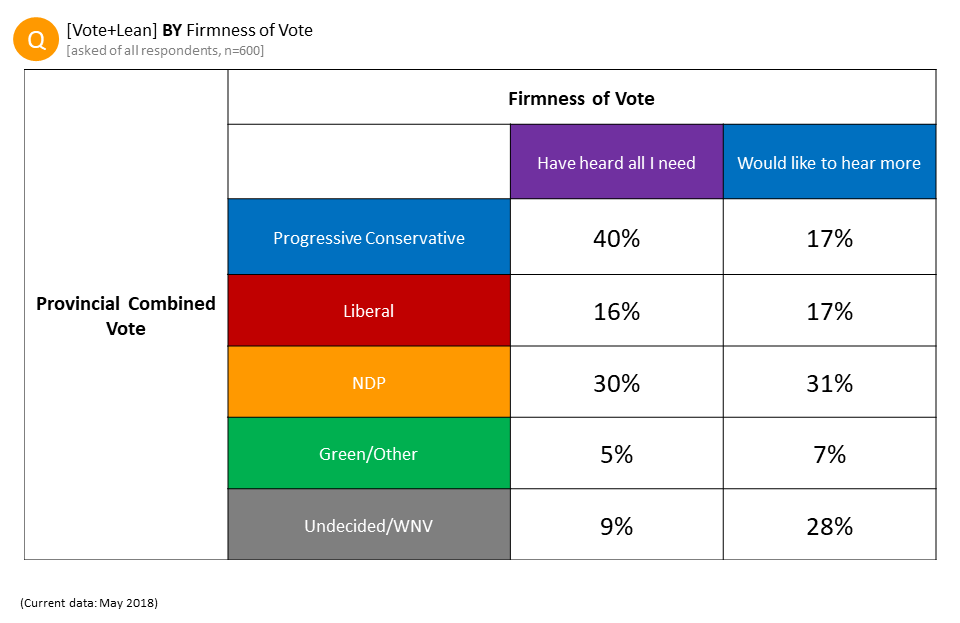 While there are fewer undecided in the online survey, the parties have very similar levels of support.
The Best Premier results are within two points of each other. Given much of the phone survey occurred before the debate and all of the online sample was polled after, it is possible the difference is due to Wynne's debate performance rather than the survey mode.
The net favourables scores are also very similar to Wynne, Ford showing four points less favourable online and Horwarth five points less favourable online. These differences are statistically insignificant and, again, this could be due to timing and the debate rather than the mode.
As we noted in our Ontario Politics Backgrounder release, pollsters generally have three ways of determining who is ahead in any given race. At INNOVATIVE, we rely on live callers over IVR because live callers normally achieve significantly higher response rates than IVR and reducing the potential for non-response bias is something we value highly.
For the full report please fill out the form below.



The full report includes detailed polling results & analysis on:
Provincial Vote,

Leadership,

Vote & Likelihood to Vote and,

Online vs Phone Comparison
For further information on these analyses or to explore how our segmentation analysis can help you tackle your pressing public or market issues please call us at 416.642.6340 or send us an email.
Methodology
This survey was conducted by telephone among 611 randomly-selected Ontario residents who are Canadian citizens, 18 years of age and older, from May 23rd to May 29th, 2018.

[LEADERSHIP November 2017: questions in leadership section were added to survey with calling beginning on November 13th and ending November 17th, 2017.]
Only one respondent per household was eligible to complete this survey. The final sample includes both landline and cell phone respondents so that individuals who don't have a landline are represented.
The sample has been weighted (n=600) by age, gender, and region using the latest available Census data to reflect the actual demographic composition of the population.
This survey is compared with previous studies since April 2000. Prior to April 2003, approximately 650 Ontario adult citizens were randomly selected. Since April 2003, approximately 600 adults are surveyed.
The margin of error for a sample of n=600 is approximately +4.0 (before April 2003: approximately +3.84)
For tracking data, results are always weighted based on the most recently available census data.
In the analysis, net impression or satisfaction refers to the two "positive" measures (i.e. "excellent" and "good") minus the two "negative" measures ("fair" or "poor") to create a single number. If there is a neutral measure ("made no difference"), it is not included in the calculation.