The resignation of Patrick Brown under the cloud of alleged sexual misconduct rocked Ontario politics to its foundations last week.
Or did it?
INNOVATIVE conducted a series of surveys, starting with a live caller RDD survey of Ontarians, using a mix of landlines and cell numbers earlier in January.  Phone surveys have the advantage that they permit the use of margins of error to project the results to the broader population.  Using live callers ensures a higher response rate than typical IVR surveys.  Because of their higher reliability, INNOVATIVE uses phone surveys for most of its horserace projections.
At the same time, INNOVATIVE also conducted an online survey.  Online surveys allow for a deeper dive into party and leader brands and their underlying dynamics.
Because online samples cannot be randomly recruited, we usually do not use them to project horserace results.  However, since whatever biases that exist in online samples are consistent over time, they are a reasonable tool to explore trends.  With that in mind, INNOVATIVE conducted a second online poll over the weekend to see what the impact of the Brown controversy has been.
What people say:
While most Ontarians have heard of the Brown controversy, relatively small groups report they are changing their votes.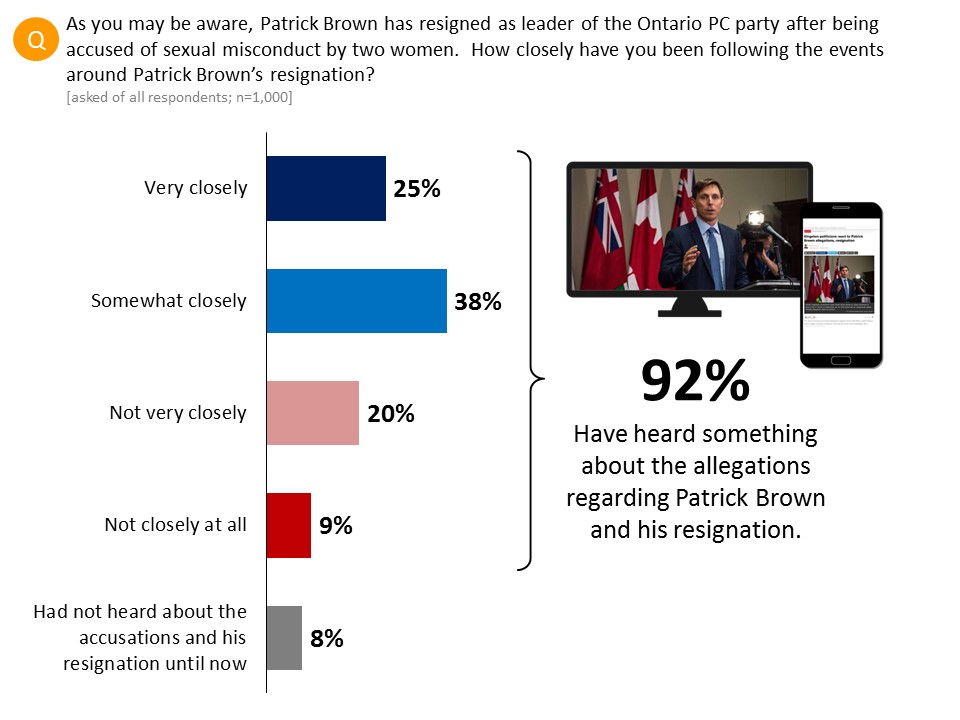 Most respondents (92%) have heard something about the allegations regarding Patrick Brown and his resignation, although only 25% say they are following the news very closely.  Voters who score high on a feminism scale are more likely to be following the news than those scoring low on the same scale.
More respondents (41%) approve of the way the PC party responded to these allegations than disapprove of it (20%), with the PC base being more likely both to approve and disapprove of the PC party's actions than the average Ontarian. Strong feminists tend to be more approving, non-feminists tend to be more disapproving than the average voter.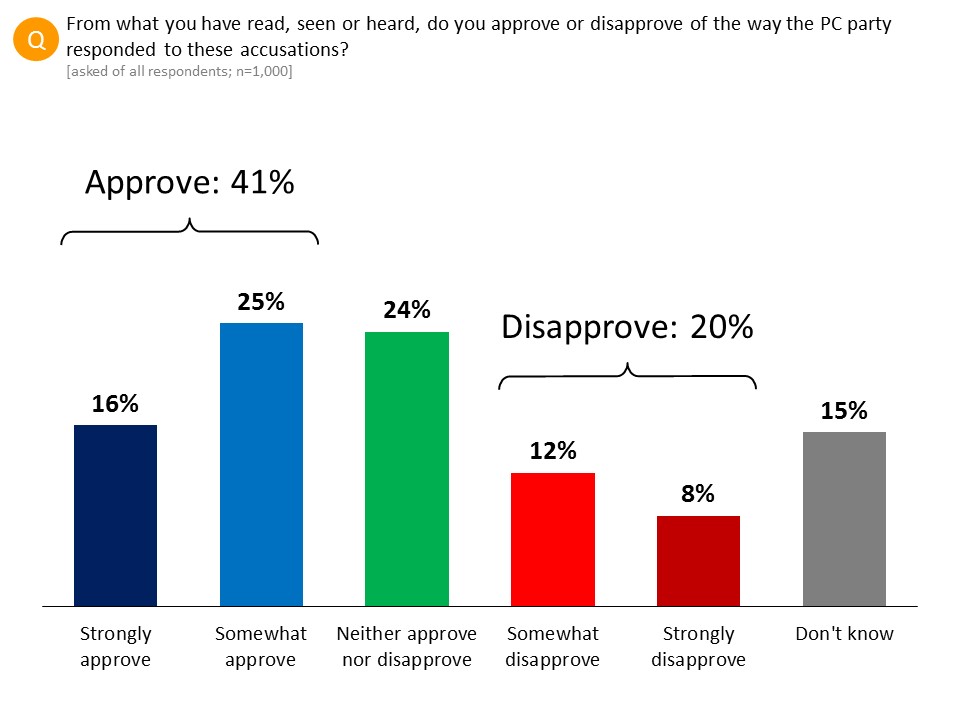 Most Ontarians (75%) say this sort of situation is equally likely to happen in any party.  People outside of the PC camp are most likely to say these events are more likely to occur in the PC party, particularly NDP identifiers (23%). Feminists in all value clusters believe these events are more likely to occur in the PC party.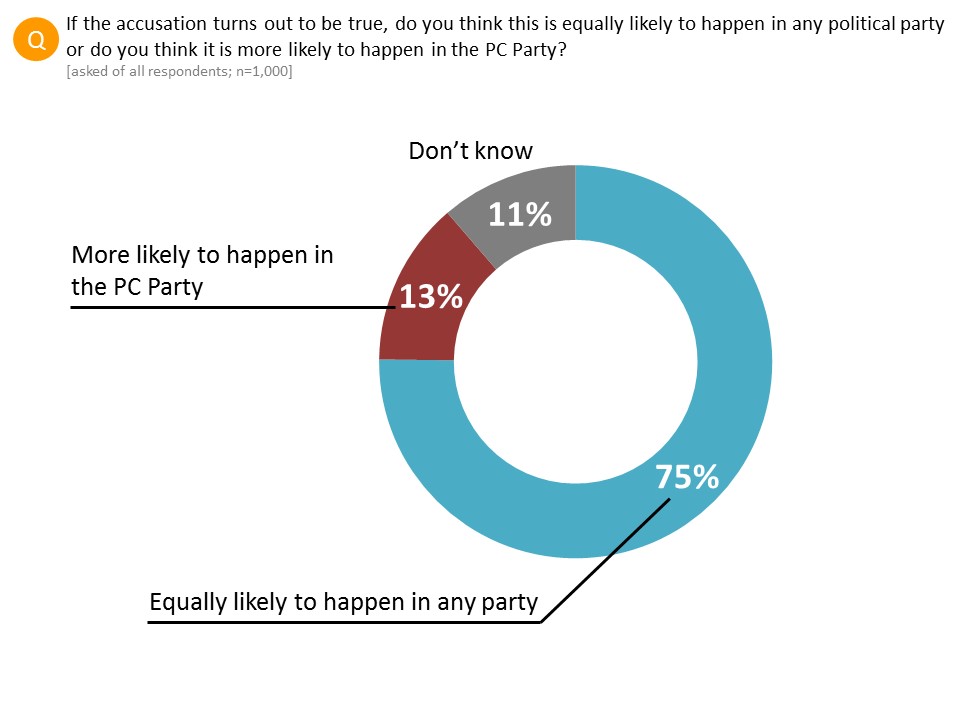 Roughly one in 20 voters (6%) say they have decided they will definitely not vote PC because of the Brown controversy.  Most of these people identify with another party.  However, 15% of the more feminist conservative value clusters say they have definitely decided not to vote PC as a result of this event.
Another one in thirteen (8%) say they are still open to the PCs but are less likely to vote for them.  These are disproportionately PC battleground voters – voters who are weakly supporting the PCs, completely undecided, or open to switching to the PCs.
What we actually see:
Little change in PC vote and no immediate signs of damage to the underlying brand.
The overall vote is marginally up overall.  The increase is actually among women, but the change is not significantly different from the previous wave.  Looking at value groups, the vote is slightly down among more feminist conservatives but up among more feminist liberals.  Within partisans, the PCs are down among PC identifiers and the small group of Green or other identifiers, but up among the unaligned.
Party identification, the political equivalent of brand, is up marginally (3 points) from earlier in January.
All party attributes are also up with "best on economy" and "best on delivering results for people like you" by significant amounts.
Little relief for the Liberals.
The Liberal vote is essentially flat compared to immediately prior to the Brown scandal, as is their party ID.
There is some improvement in their party attributes scores.  This is important for the Liberals because it reduces the risk of decline that was present earlier in the month.
The Liberals might have hoped that when Ontarians compare their government and their Premier to the alternative, now that their primary alternative is facing disarray, they might have improved.  The results do not show that.
Impressions of Kathleen Wynne are more intensively negative at the end of the month (50% very unfavourable) than they were earlier (44% very unfavourable).
The number who strongly agree it is time for a change has grown from 40% to 48%.
The number who strongly disagree that the Liberals may have their problems, but they are still best to form government has grown from 31% strongly disagree to 38% strongly disagree.
Some improvement for the NDP.
If anyone can be said to have won in this controversy, it is the NDP.
The NDP vote is up 4 points.  This is a statistically significant change.
The NDP party ID is up 2 points.  Not a significant gain but encouraging for the New Democrats.
The NDP scores on party attributes have also generally improved in a similar range.
More importantly, while 49% of the electorate agree the election is a two-horse race between the Liberals and the PCs, the same number also agree that given the problems with the PCs and Liberals, "I am interested in hearing what the NDP has to offer."
Summary
The fundamentals of Ontario politics as we enter February look very similar to the fundamentals we saw entering January. Ontarians are very angry with Kathleen Wynne's government, and the Ontario PCs are leading as her replacement.  The two key shifts over the month are Tory problems with more feminist voters who are open to them, and a slight improvement in NDP fortunes.  The wild card is the PC leadership which we will look at next.
Methodology
Telephone survey: This survey was conducted by telephone among 670 randomly-selected Ontario residents, 18 years of age and older, from January 10th to January 16th, 2018.
Only one respondent per household was eligible to complete this survey. The final sample includes both landline and cell phone respondents, so that individuals who don't have a landline are represented. Numbers are dialed from RDD sample. A maximum of 8 calls are attempted on each phone number. Screening questions are used to ensure that respondents do not work in market research, politics, or the media, and in the case of cell phone respondents are not driving at the time of the call.
The sample has been weighted to n=600 by age, gender and region using the latest available Census data to reflect the actual demographic composition of the population. The margin of error for a sample of n=600 is +4.0% 19 times out of 20. Margins of error will be larger for sub-samples.
Online surveys: These findings are from two Innovative Research Group (INNOVATIVE) polls conducted from January 11th to January 17th, 2018 (Wave 1), and January 26th to 29th, 2018 (Wave 2), respectively.
The online surveys of 1,040 (W1) and 1,027 (W2) adult Ontarians were conducted on INNOVATIVE's Canada 20/20 national research panel with additional sample from Survey Sampling International, a leading provider of online sample. The Wave 1 Ontario sample is drawn from a Canada wide survey of N=2,315 conducted on the same dates. The Canada 20/20 Panel is recruited from a wide variety of sources to reflect the age, gender, and region characteristics of the country as a whole.
Both samples are weighted to n=1,000 by age, gender, and region of the province based on the latest Statistics Canada census data.
This is a representative sample.  We have set targets to ensure we properly reflect key regional and demographic distribution and then used weights to ensure we reflect the country properly.  However, since the online survey was not a random probability-based sample, a margin of error can not be calculated. The Marketing Research and Intelligence Association prohibits statements about margins of sampling error or population estimates with regard to most online panels.
Detailed tables: For all surveys, complete results as well as additional methodological details, are available in the full report.
For the full report please fill out the form below.
The full report includes detailed polling results & analysis on:
The current political context,
Audience segmentation,
Party attributes,
Leadership favourables,
Public opinion of Patrick Brown's resignation,
The PC leadership race (including vote impact & vote switching) and,
Value tracking