(May 15, 2018 – Toronto)
Overview
New Online Survey Shows Ontario PCs remain in a strong lead as NDP pick up momentum.
A new Innovative Research Group (INNOVATIVE) online poll shows the PC party leading with 38% of the decided vote with the Liberals and NDP tied for second at 28%.  When we map out the results of first and second choice preferences, we see the PCs continue to lead with a strong base and a divided opposition.  One unique element of this campaign is the NDP-PC swing vote.  While it is a relatively small slice of the overall electorate, it is twice the size of the more traditional Liberal-PC swing vote.  If the NDP can sustain their momentum, the NDP-PC swing may become the most important segment in the electorate.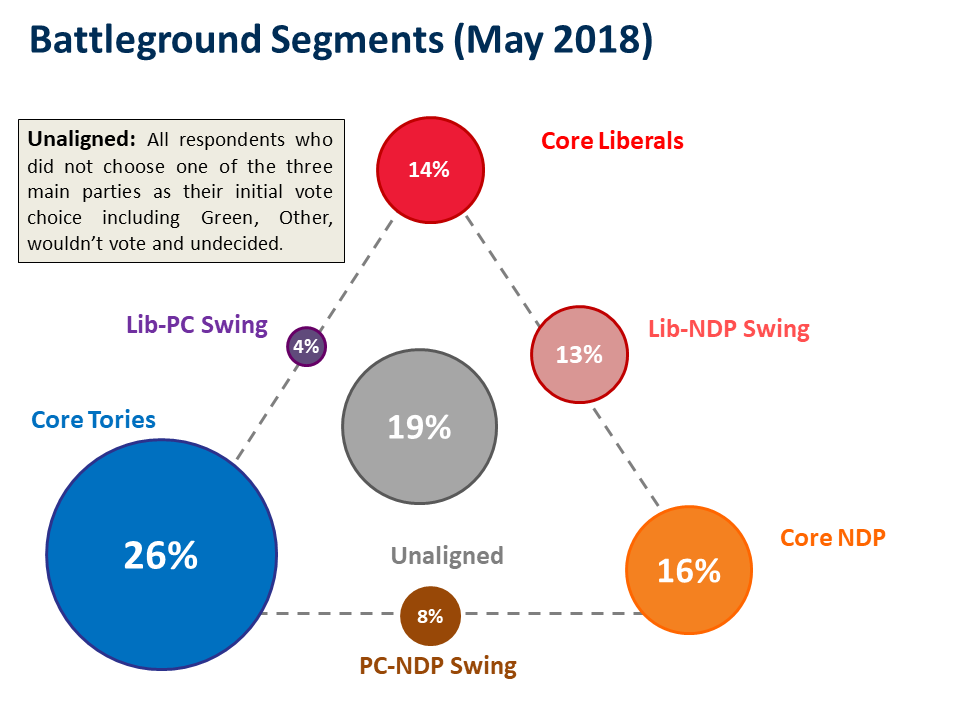 The PC Road Forward
PCs have a strong and loyal base – larger than it was in 2014.
The PCs are sitting on a big mobilized core group but have a hard time growing beyond that base.  They have narrowed the Liberal lead on party ID.  Looking at party attributes, the PCs generally do well when the debate focuses on fiscal issues and law and order.  However, they are quite weak on social programs, the environment, and affordable housing.
Strengths and weaknesses in Doug Ford's image
Online samples tend to judge Doug Ford more harshly than telephone samples, but his favourables is up 6 points compared to our last online measure.  Ford does relatively well on being honest about Ontario's challenges and delivering practical change for me but shows some weakness on competence and integrity.
The NDP Road Forward
Andrea Horwath is turning the NDP into a serious contender.
While net favorability scores for Kathleen Wynne and Doug Ford remain relatively negative, Andrea Horwath has enjoyed a 21-point increase in net favorability over the last three months. She is now in a statistical tie with Doug Ford as best Premier.  Horwath stands apart from Wynne and Ford as NOT being associated with any negative attributes.  One third (32%) say she is the leader best described by 'integrity', a key element of the 'time-for-a-change' sentiment.
The first debate was key.
Horwath won among those who watched (45%, 25% Ford, 19% Wynne). But 50% didn't recall anything about the debate and 4% didn't know.  While Doug Ford was seen to win among the PC identifiers, Horwath won among the NDP, the unaligned and among the Liberals. Having more Liberals pick another party as a debate winner over their own leader is an extremely unusual event and suggests the Liberals may see further defections.
The NDP challenge is their small base.   
Every party needs defections from other parties to win.  However, with just 12% of the electorate saying they feel closest to the NDP, the NDP faces a huge uphill battle to win over and retain converts.  At 56%, the NDP pool of accessible voters is equal to the PCs, but the PCs have 10 percent more in their base.
Issues that matter to Ontarians.
On most issues we find many more Ontarians say the NDP is better than the number of base NDP identifiers.  In the marketing world, this is the hallmark of a brand ready to make a breakthrough. The NDP have particular strength on two highly ranked issues, the cost of living and health.  Just over a third (34%) say the NDP is best on 'affordable housing' and 27% say they are best on health.
The Liberal Road Forward
Bringing friends home is job one.
The Liberals are challenged to find a formula that will make "Liberals" vote "Liberal".   With 32% saying they feel closest to the Liberals, they continue to have the highest "brand loyalty" among Ontarians but only 6 in 10 voters who feel like Liberals are voting Liberal.
The issues don't generate differentiation between Liberals and NDP.
Liberal brand loyalists identify "health care" and "cost of living" as their major concerns, but so do NDPers.  The NDP now lead the Liberals by 7 percentage points as the best on health care and by 21 percentage points on affordable housing.  On every single party dimensions, there are at least 7 percentage points fewer voters that say the Liberals are best on the issue than there are voters who feel like Liberals.  In marketing, this is what an "unsupported" brand looks like, a brand due for a fall.
Kathleen Wynne is not helping.
The sitting Premier of Ontario is now running third as best Premier.  Almost 6 in 10 (59%) Ontarians have an unfavourable impression of Kathleen Wynne.  Wynne still has a base of about one in five who like her (21%). Those remaining supporters stick with her on most attributes such as strong leader (21%), competent (20%) and 'cares about people like me' (20%) but they fall away on 'integrity' (14%).
Summary
The PCs are leading with a strong base, but they have to watch the NDP.  The NDP are challenged by their small base, but as many people are open to voting NDP as PC at this time.  In theory, the Liberals have the easiest challenge – convince people who feel like Liberals to vote Liberal.
For NDP to catch up with the PCs, the voters to watch are Liberal identifiers and Liberal-NDP switchers.  The NDP need to convince those voters to give up on the Liberals and back the NDP against the PCs.  The Liberals must convince their base that the NDP are dangerous.  So far, the NDP are winning that fight.
For the NDP to surpass the PCs, the voters to watch are NDP-PC switchers.  If the NDP can win enough Liberals to make it close, these NDP-PC switchers will determine the government.
Methodology
These are the findings of an Innovative Research Group (INNOVATIVE) poll conducted from May 7th to May 9th, 2018 with tracking drawn for our monthly omnibus.
This online survey of 915 adult Ontarians is drawn from a larger monthly omnibus survey of 1,990 adult Canadians using INNOVATIVE's Canada 20/20 national research panel with additional respondents from Survey Sampling International (SSI), a leading provider of online sample. The Ontario results shown are weighted to n=915 based on Census data from Statistics Canada.
INNOVATIVE provides each panelist with a unique URL via an email invitation so that only invited panel members are able to complete the survey, and panel members can only complete a particular survey once.
This is a representative sample. However, since the online survey was not a random probability-based sample, a margin of error cannot be calculated. The Marketing Research and Intelligence Association prohibits statements about margins of sampling error or population estimates with regard to most online panels.
Detailed tables: For all surveys, complete results as well as additional methodological details, are available in the full report.
For further information on these analyses or to explore how our segmentation analysis can help you tackle your pressing public or market issues please call us at 416.642.6340 or send us an email.
For the full report please fill out the form below.
The full report includes detailed polling results & analysis on:
Provincial Vote,

Party ID,

Issue Salience,

Party Image,

Party Leadership and,

The May 7th Leadership Debate