Vancouver – June 21st marks National Aboriginal Day, a day intended to raise awareness and celebrate the contributions of Indigenous Canadians. However, a recent online survey of 1,607 Canadians shows that after 21 years of National Aboriginal Days, Canadians are largely disengaged from Indigenous peoples and their issues. (Click here for full methodology and details).
Canadians disengaged on Indigenous issues
Despite media and governmental attention to Indigenous issues such as housing, water supply, suicide and the Missing and Murdered Indigenous Women Inquiry, only 43% reporting having read, seen or heard anything recently concerning Canada's Indigenous peoples. Most respondents reported relatively low contact with Canada's Indigenous peoples, with only 21% saying they have often or frequent contact.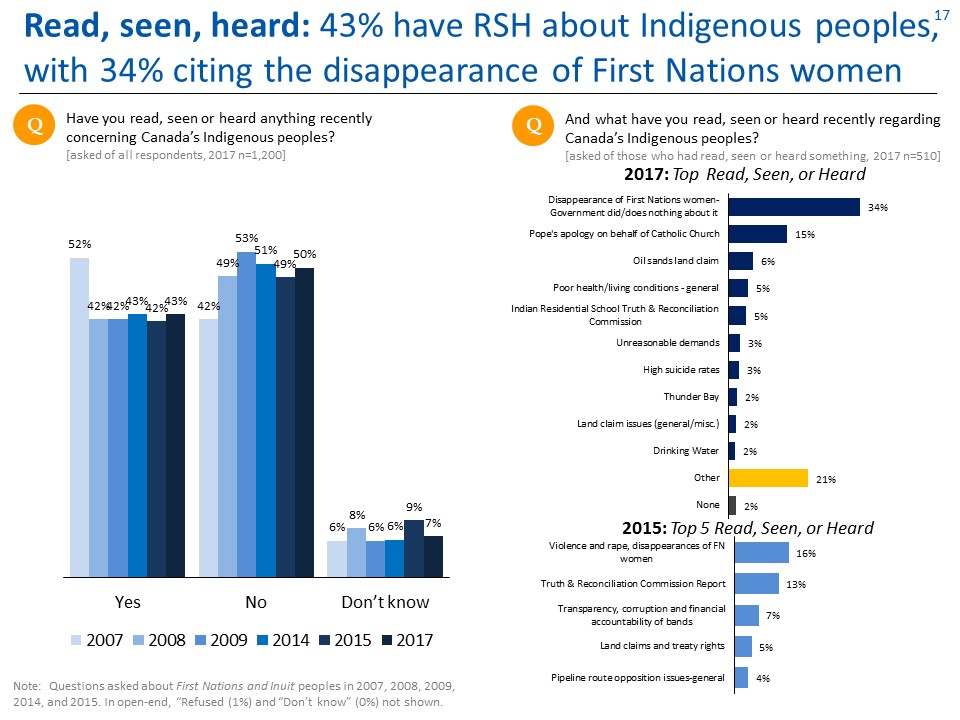 Similarly, when asked whether they approve of the job their federal or provincial government are doing managing Canada's Indigenous people's issues, 39% selected nether approve or disapprove or "don't know" towards the federal government, and 51% selected nether approve or disapprove or don't know for their provincial government.
Perceptions of federal government improved, but most Canadians with a view disapprove of federal and provincial government performance
Since 2008, the government's approval ratings on Indigenous issues have improved substantially. That said, 41% of Canadians still disapprove of the government's performance, as compared to 22% who approve.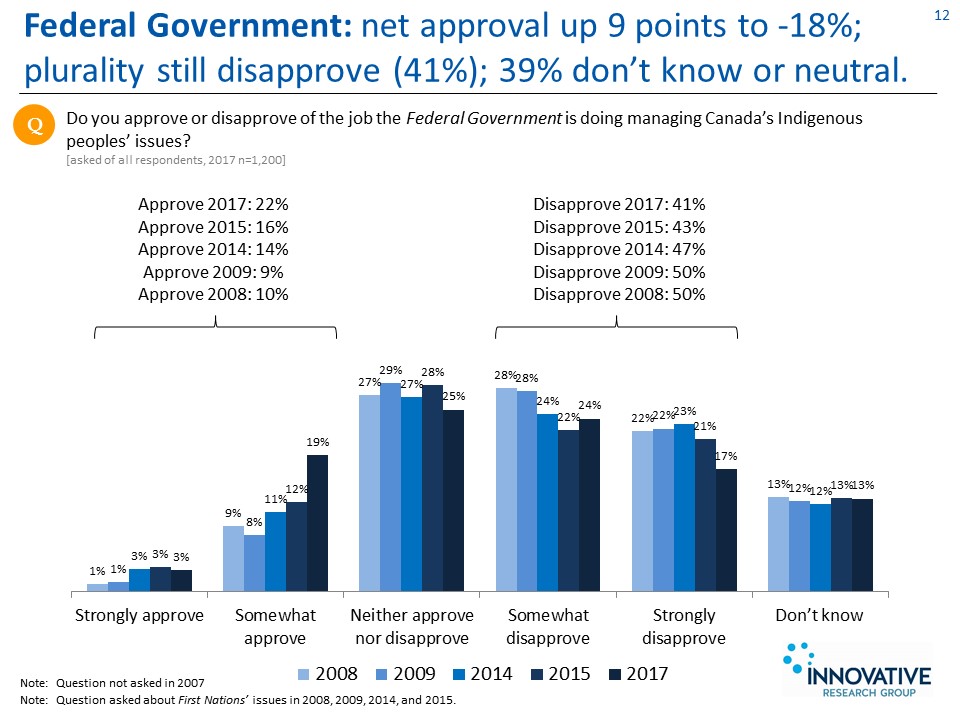 On the provincial level a similar phenomenon occurs. In every region, substantially more people disapprove of the job their provincial government is doing than approve of how their province is managing Indigenous peoples' issues.
Strong support for the adoption of the UN Declaration on the Rights of Indigenous Peoples grounded on limited familiarity and conflicting attitudes
The survey looked more closely at Canadian attitudes towards the adoption of the UN Declaration on the Rights of Indigenous Peoples. Again, we find Canadians disengaged with only 19% claiming at least some familiarity with the declaration.
On first impression, Canadians like the idea of fully adopting and implementing the declaration with 56% saying it sounds like a good idea and just 22% saying it sound like a bad idea.
However, when we probe deeper, we find Canadians are conflicted on some of the underlying issues. While 65% of respondents agree "Canadians have a duty to help resolve the massive inequalities that indigenous people face in Canada," 69% agree "Canada's Indigenous people should have the same rights as any other Canadian, no more and no less". More specific statements show similar conflicts and more uncertainty.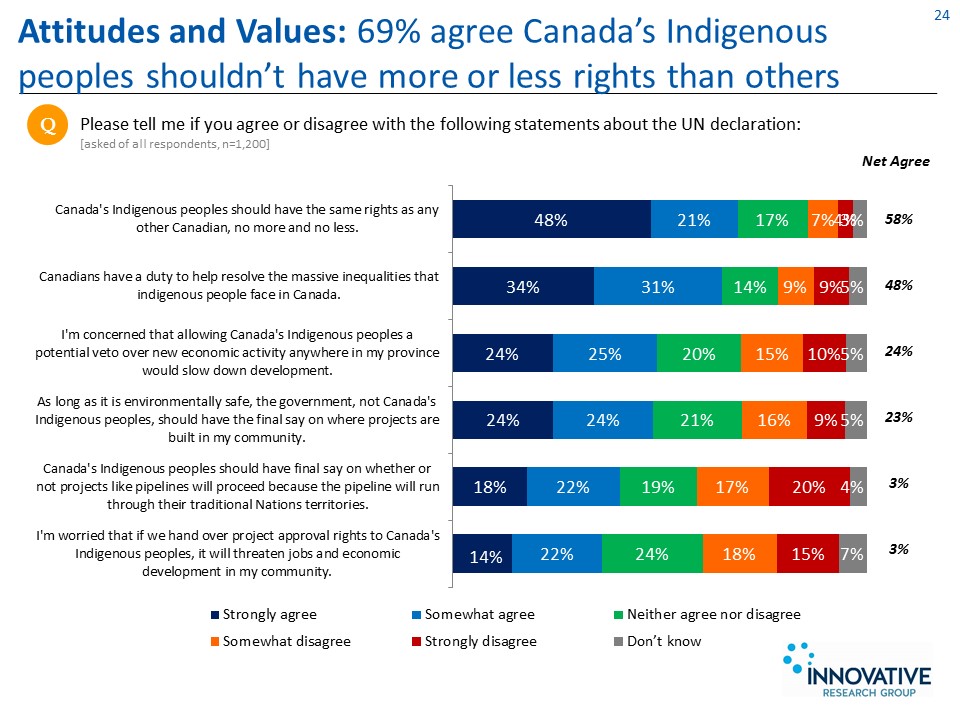 As Canadians mark National Aboriginal Day with celebrations of Indigenous contributions and culture, this survey shows how much farther we have to go.
To read or download the full public report, please fill out the form below.
INNOVATIVE also offers private briefings, with additional data and depth, specially tailored to the issues that matter to you. To learn more about our INNOVATIVE Insider Briefings, click here.


About this study:
These are the findings of an Innovative Research Group (INNOVATIVE) poll conducted from May 29th to June 2nd, 2017.
This online survey of 1607 adult Canadians was conducted on INNOVATIVE's Canada 20/20 national research panel. The results following for Canada only are weighted to n=1,200 based on Census data from Statistics Canada.
The Canada 20/20 Panel is recruited from a wide variety of sources to reflect the age, gender, region and language characteristics of the country as a whole. Each survey is administered to a series of randomly selected samples from the panel and weighted to ensure that the overall sample's composition reflects that of the actual Canadian population according to Census data to provide results that are intended to approximate a probability sample.
INNOVATIVE provides each panellist with a unique URL via an email invitation so that only invited panel members are able to complete the survey, and panel members can only complete a particular survey once.
This is a representative sample. We have set targets to ensure we properly reflect key regional and demographic distribution and then used weights to ensure we reflect the country properly. However, since the online survey was not a random probability based sample, a margin of error can not be calculated. The Marketing Research and Intelligence Association prohibits statements about margins of sampling error or population estimates with regard to most online panels.
Tracking results from are from previous polls conducted on INNOVATIVE's Canada 20/20 panel: July 24th to July 30th, 2015 n=2,000, June 26th to July 3rd, 2014 n=2,332, June 25th to July 6th, 2009 n=2,507; May 7th to June 4th, 2008 n= 4,893, May 31st to June 27th, 2007 n=5,060.
Note: Graphs and tables may not always total 100% due to rounding values rather than any error in data. Sums are added before rounding numbers.