On June 26th, INNOVATIVE released the latest findings from its June Canada This Month survey.
The results show what may be the beginning of a return to usual partisan politics at the Federal level, with the first month since February to have an equal mix of negative and positive news for Trudeau's government in our issue management tracking.
A majority (57%) of respondents had read, seen, or heard something about the federal government over the last few days.
After a surge of positive reactions to these news stories during the COVID-19 outbreak, June is the first month since February to see a roughly even split of those saying issues in the news have left them feeling less favourable compared to those who said more favourable.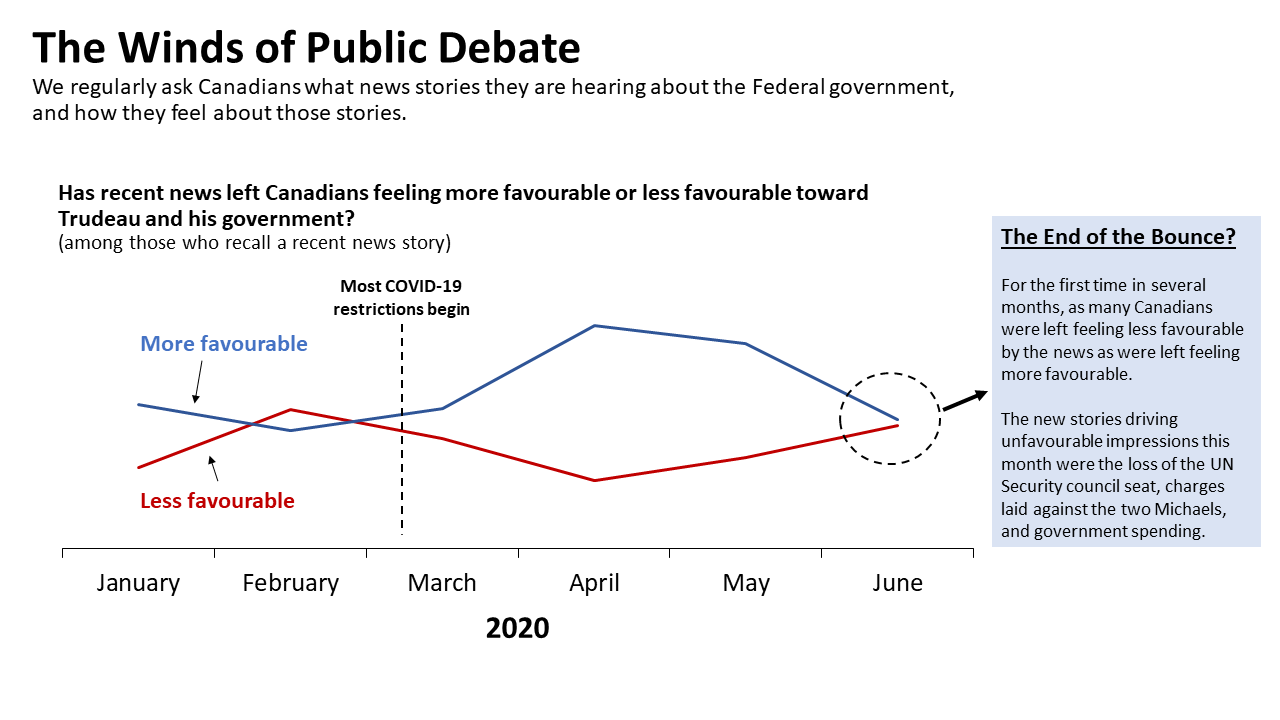 The negative reaction to the lost bid for the UN Security Council seat is the key issue driving this change. Of those who recall any news story, one-in-four (26%) recall the bid for a seat, bumping COVID-19 (23%) from the top spot. Nearly half of those who recall the news story on UN Security Council seat (45%) felt less favourable towards Trudeau and the Liberal government based on the news. Only 6% who recall the issue felt more favourable towards the federal government as a result.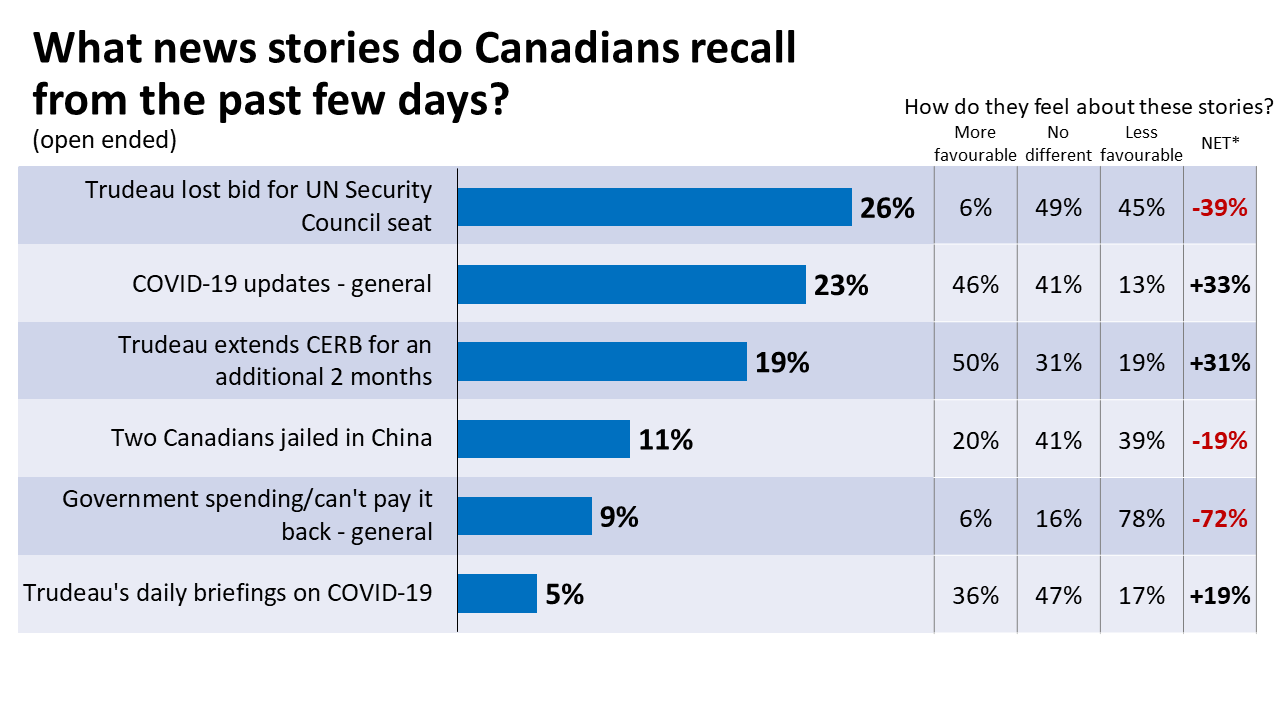 If the beginning of a more contested news environment is going to hurt the Liberal's electoral chances, we aren't seeing that yet. Liberal vote (41%) remains well above the second place Conservatives (27%), a gap that is steady from earlier in June. The NDP is currently polling at 15%.
COVID-19 Response
Both federal and provincial governments continue to receive high marks for their handling of the COVID-19 outbreak.
Six-in-ten (61%) approve of the federal government's leadership on COVID-19, and 7-in-10 (70%) approve of their respective provincial governments' handling of the issue.
British Columbia (83%) and Atlantic Canada (83%) governments receive the highest levels of approval for their handling of COVID-19.
This ongoing strong COVID-19 approval is spilling over to general government approval and having some significant political impacts. Here's what you need to know about the political scene in BC, Alberta, Ontario, and Quebec.
In-Depth: BC
In British Columbia, provincial government approval is up 24 points since last December (51%). Now, 3-in-4 (75%) British Columbians approve of John Horgan's government.
Among decided voters, the NDP (42%) continues to lead the Liberals (32%) by a wide margin, with BC Conservatives (13%) and Greens (12%) tied for a distant third.
The BC NDP is punching far above their weight on vote – only 1-in-4 (24%) identify politically as NDP. 3-in-10 (30%) have no party ID, and nearly half (47%) identify with an opposing party. Roughly 1-in-8 (12%) British Columbians who identify with an opposition party intend to vote for the current government. A key part of the NDP's success in reaching beyond its base is the significant gains Premier Horgan has been showing in terms of personal favourables.
In-Depth: Alberta
In Alberta, the United Conservative Party (UCP) government lags in approval compared to other provinces- just 49% are satisfied with its overall performance. This is still a high level of approval compare to pre-COVID.
When it comes to vote, while the UCP continues to lead, over the last 12 months UCP is down from a high of 57% among decided voters to 44% today.
While its lead is currently fairly tight, the UCP shows an advantage on incumbent party loyalty when compared to other provinces: nearly 4-in-10 (38%) Albertans identify as UCP partisans, and nearly 9-in-10 (89%) UCP identifiers are voting for the incumbent. With its strong partisan base, it is hard to see a path for the opposition NDP to overtake the UCP in the current environment. However, earlier stumbles in its COVID-19 response mean the UCP has less room for error now.
In-Depth: Ontario
In Ontario, voters are still expressing happiness with of Doug Ford's provincial government, but that doesn't mean they will vote for him.
The government satisfaction is at 65% – a 29-point gain since December. However, when it comes to vote choice, the Ontario Liberals (39%) hold on to their lead over the Progressive Conservatives (31%), with 2-in-10 (21%) decided for the Ontario NDP.
To improve their standing, the PCs need to broaden their base or appeal to more swing voters. The base of loyal PC voters (22% identify as Progressive Conservatives) is not big enough on its own, and the PCs are only receiving 17% support among voters with no party ID, and 7% among voters with an opposing party ID. Governments in BC and Quebec have similarly small pools of base voters, but draw nearly double the support from unaligned and opposition-aligned groups.
In-Depth: Quebec
In Quebec government satisfaction dropped in May from a high of 82% in April down to 63%. In our June survey, it is back up at 70%.
When it comes to vote choice, the CAQ (39%) maintains its 10-point lead over the Quebec Liberals (29%), while the PQ is the third choice at 21%.
As with Ontario, the CAQ is working with a small pool of base voters (just 19% party ID). However, their strength stems from strong support (36%) among the province's unaligned voters, and above average support (16%) among voters who usually identify with another political party.
For detailed results, download our report here.