An online survey of 1,726 adult Canadians was conducted between October 8th and 9th for Maclean's.
Our most recent release identified Jagmeet Singh as the winner of the English language debate. Jagmeet Singh and Yves-François Blanchet are doing much better than expected compared to the main parties in this election. As a result, there are dramatic improvements in favourability for both leaders. Elizabeth May remains in the positive. Andrew Scheer and Justin Trudeau are both marginally better. Maxime Bernier remains in the basement. Our 'Best Prime Minister' tracking shows a dramatic gain by Jagmeet Singh, growing from 12% to 18%.  Trudeau still leads Scheer 35% to 30%.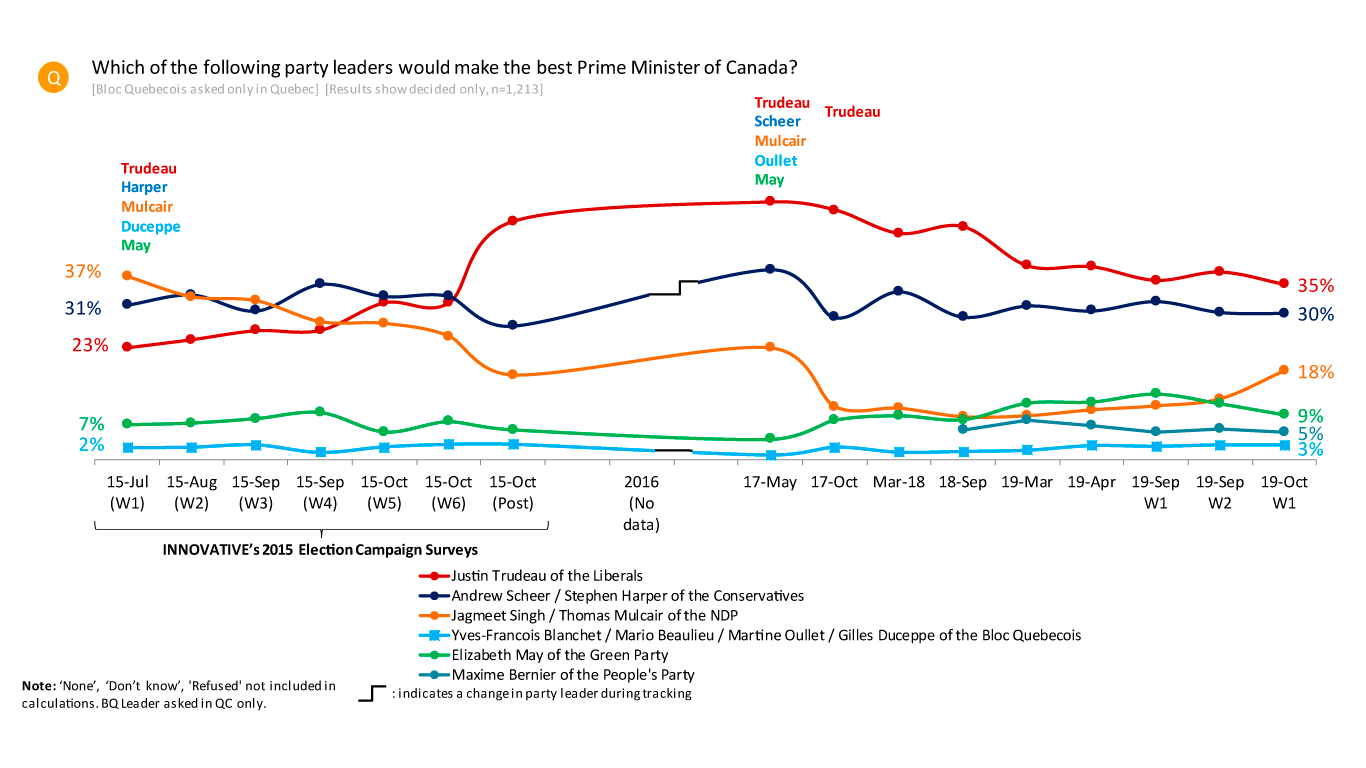 On the details:
Trudeau has more negatives among those who actually saw the debate. Trudeau has strong appeal among Liberal identifiers. He is viewed negatively by every other partisan segment. The details of Trudeau's leadership image are stable. His best score is on strong leadership where he leads Scheer by six points. His key weakness is that 39% view him as dishonest.
Scheer is clearly being hurt by the coverage of the debate. He has good support from his base and some with the PPC identifiers but other partisan segments view him negatively, including the unaligned segment. His underlying image is fairly stable. He is statistically tied with Trudeau on measures of 'competence', 'positive change', 'cares about people like me' and 'stands for what I believe'.
Blanchet does well with both viewers and news followers, but he does particularly well those who watched the English language debate which bodes well for him for tomorrow night. Blanchet has strong appeal in his base and a net positive image with the unaligned. He is viewed negatively by Liberal and Conservative identifiers. Blanchet gained on 'strong leadership', 'positive change' and especially 'cares about people like me' and 'stands for what I believe'.
Singh does well whether people watched the debate or news coverage. Not only is he well-regarded by his base, but he also has a favourable image among supporters of the Liberals, the Bloc, Greens and the unaligned. Even Conservatives have almost as high favourable as unfavourable view. Singh gained three points on 'strong leadership' and 'cares about people like me'. 'Cares about people like me' was his strongest attribute before the debate. He gained four points on 'stands for what I believe', and six points on 'competent' and 'represents positive change'.
People are more likely to have a view of May, both good and bad if they watched the debate. Her net evaluation is similar to whether people viewed the debate or just heard about it. May is like Singh; very well regarded by her base and reasonably well regarded by other center-left parties. PPC and other voters are a little more negative than positive while Conservatives are more negative. What is worrisome for May are her underlying attributes. Every positive attribute dropped two or three points, and she didn't start with that many lose.
While Bernier's negatives are higher among debate viewers, so are his positives. The small group of PPC loyalists is strongly favourable towards Bernrier. While he has some favourables among the other partisan segments, overall all other groups are strongly negative. Like May, Bernier has also lost ground on all his positive attributes although in this case, the declines are only one or two points as his scores were very low to start with.
Click to read the Maclean's article on our most recent polling release below.
2019 Federal Election - Leadership Tracking