INNOVATIVE's monthly telephone tracking poll shows the PCs have moved from trailing Liberals by eight points to leading by five.  (Click here for methodology and details).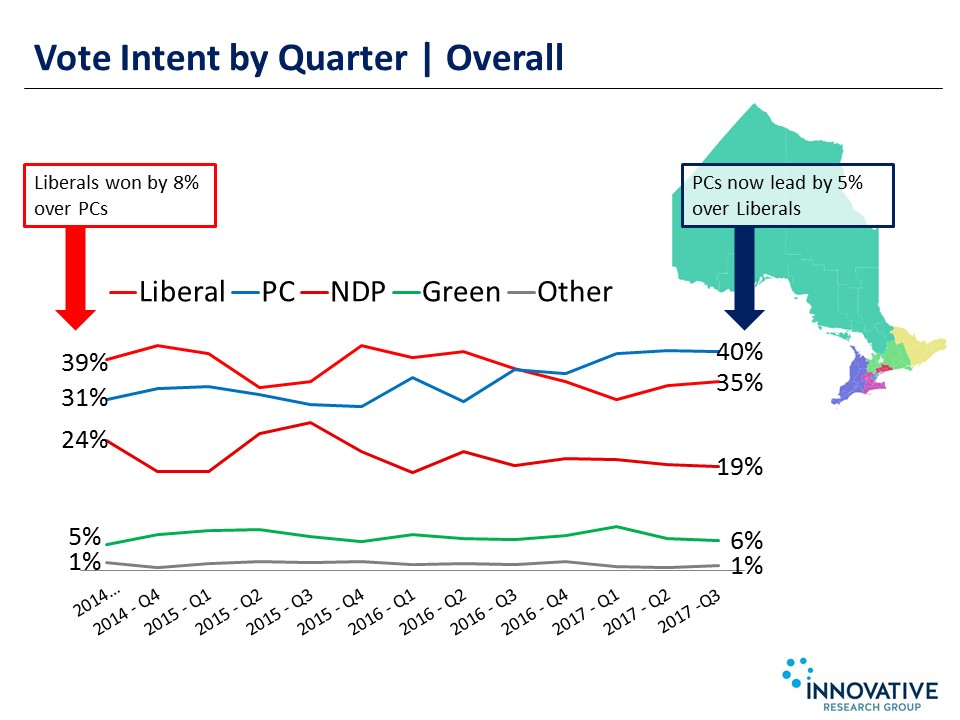 In the 2014 election, Ontario Liberals won with 39% of the vote to OPC's 31% with 24% voting NDP.
Over the last three years, both the Liberals and NDP have lost significant ground. In our latest quarterly tracking the PCs lead with 40% support among decided voters, Liberals are in second at 35%, and the NDP have dropped five points since the election to just 19%.
The PCs have narrowed the gap on brand loyalty.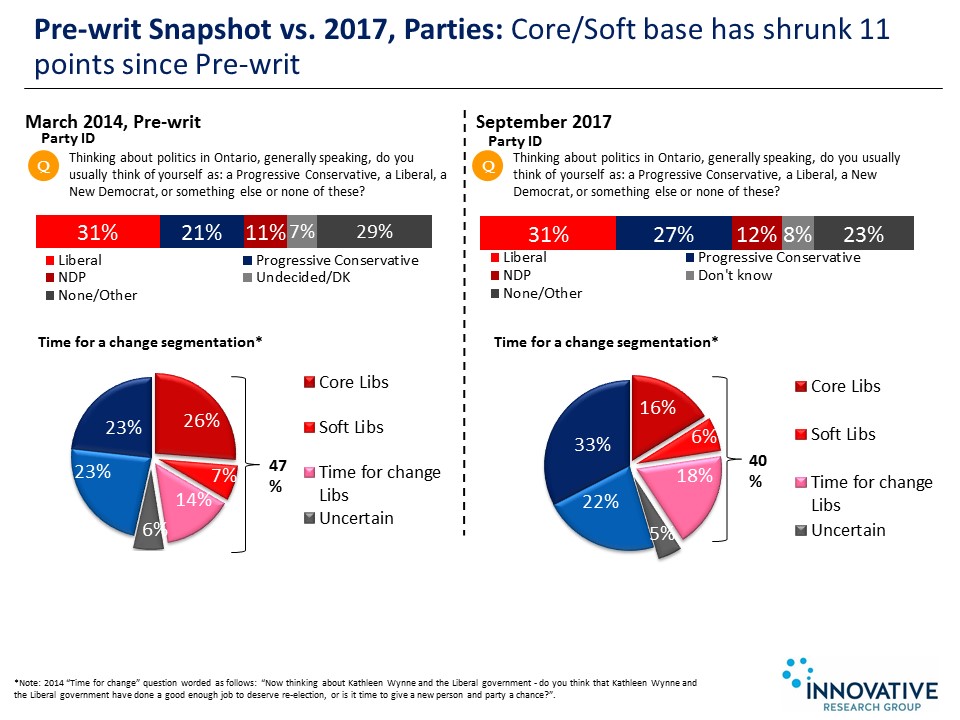 Before the start of the 2014 campaign (March 2014), nearly a third (31%) identified as Liberal, 2-in-10 (21%) as PC, 3-in-10 (29%) did not identify with any party.
In 2017, Ontario Liberals hold onto their partisans (2017: 31%), but OPCs have grown their pool (27%), likely from non-partisans, which decline to 23%
The Liberals are fishing from a smaller, more conflicted voter pool.
In the 2014 pre-writ period, 1-in-4 (26%) were Core Ontario Liberals: they disagreed that it was time for a change of government and agreed that the Ontario Liberals were still the best party to run it. Time-for-a-change Ontario Liberals who agreed it was time for a change, but also agreed that the Liberals are the best to run government made up 1-in-8 (14%).
By September 2017, the Core Ontario Liberal group has shrunk to just 16% , while the more conflicted Time for a Change Liberals have risen to 18%.
Brown has much lower negatives than Hudak but is still widely unknown.
Current OPC leader Patrick Brown favourable are in the black: 1-in-4 (26%) Ontarians view him favourably and just 17% feel unfavourably towards him. This is a net improvement on previous OPC leader Tim Hudak ("Favourable": 30%; "Unfavourable": 45%).
But Brown is still unknown to nearly half (49%) of Ontarians, including 38% who did not recognize his name.
Wynne has the worst negatives of any leader we have tracked in 17 years.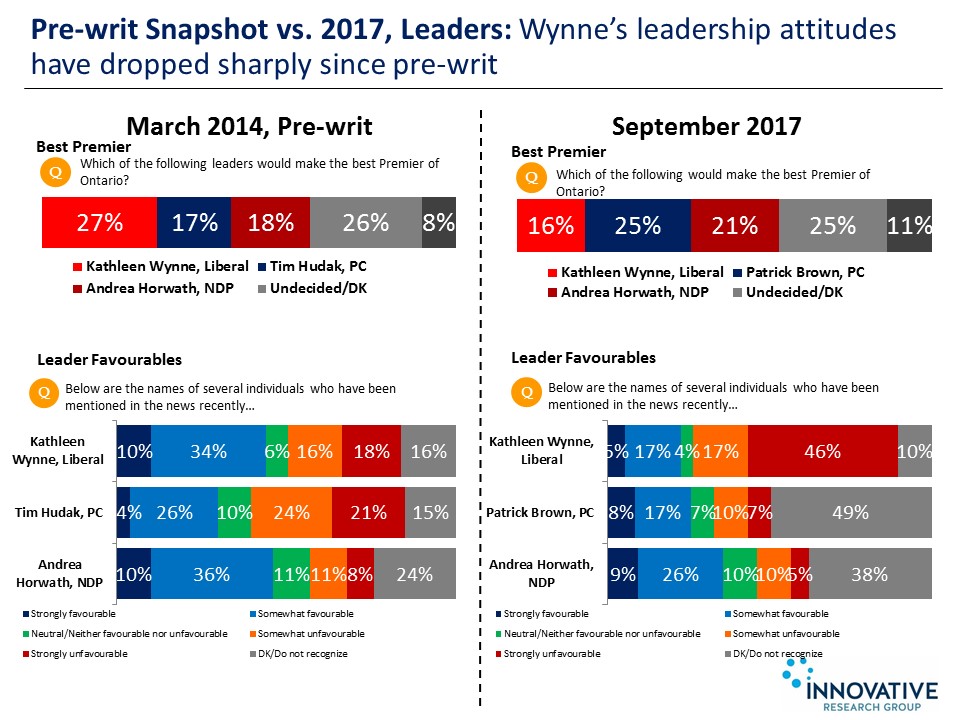 A majority (63%) of Ontarians feel unfavourably towards Wynne, including nearly half (49%) who feel "strongly unfavourable". Less than 1-in-4 (23%) Ontarians feel favourably towards Wynne and just 1-in-20 have a strongly favorable opinion.
Wynne's net favourable numbers have dropped 50 points since the 2014 pre-writ period, from +10 to -40.
As a part of our ongoing monthly tracking, INNOVATIVE maintains regional, voter and issue analyses. For those interested, we offer private briefings, with additional data and depth, specially tailored to the issues that matter to you. To learn more about our INNOVATIVE Insider Briefings, click here.
About this study:
Innovative Research Group Inc. (INNOVATIVE) polled 608 Ontario residents through a mixed landline and cell live caller survey from September 11th to the 18th, 2017. The margin of error for September's data is +/- 4.0 %, 19 times out of 20. The sample has been weighted (n=600) by age, gender and region using the latest available data, 2011 Census, to reflect actual demographic composition of the population.  This survey is compared with previous studies since April 2000.
For the full report fill out the form below.