Toronto, ON – INNOVATIVE's monthly telephone tracking poll shows the PC's maintaining a narrow lead as anger towards the Liberals ebb and Patrick Brown begins building a positive image.  Despite the dramatic policies announcements coming from the Liberal government over the past several months, the changes in Ontario's core political numbers remain quite limited. (Click here for methodology and details).
If Ontario held an election today, the PCs would likely win by a hair: 3-in-10 (30%) would vote PC, compared to 27% who would likely vote Liberal. Over the past two months the PC lead has been narrower than it was earlier in the spring.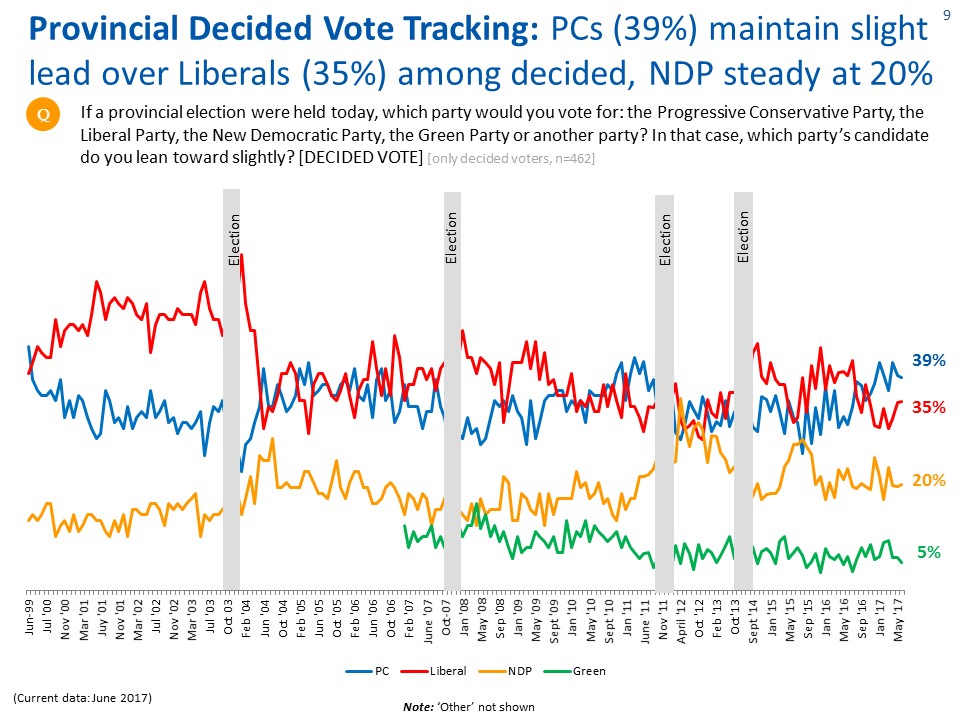 The Liberals remain in the race because they enjoy a 7-point lead in party identification.  However, the PCs are more effectively at mobilising their base with 85% of those who identify as Progressive Conservatives planning to vote PC, compared with just 61% of Liberals and 67% of NDP.
Wynne underperforming with base, but hostile groups shrink
The numbers paint a murky picture for the Ontario Liberals. On the one hand, the Liberals are underperforming with their base of Core/Soft Liberal supporters (25% of the electorate) – only 6-in-10 (61%) plan to vote Liberal in the upcoming election.
On the other hand, the group of Liberal-identified voters who are hostile to the government (those who strongly agree it is time for a change and strongly disagree that the Liberals are the best party to form government) is 27%, down from a high of 33% in February 2017.
The primary hope for the Wynne Liberals is the relatively large group (19%) of conflicted – those who say it's time for a change in government but still believe that the Liberals are the best party to form government. Nearly half of these "time-for-change Liberals" (49%) plan on voting Liberal.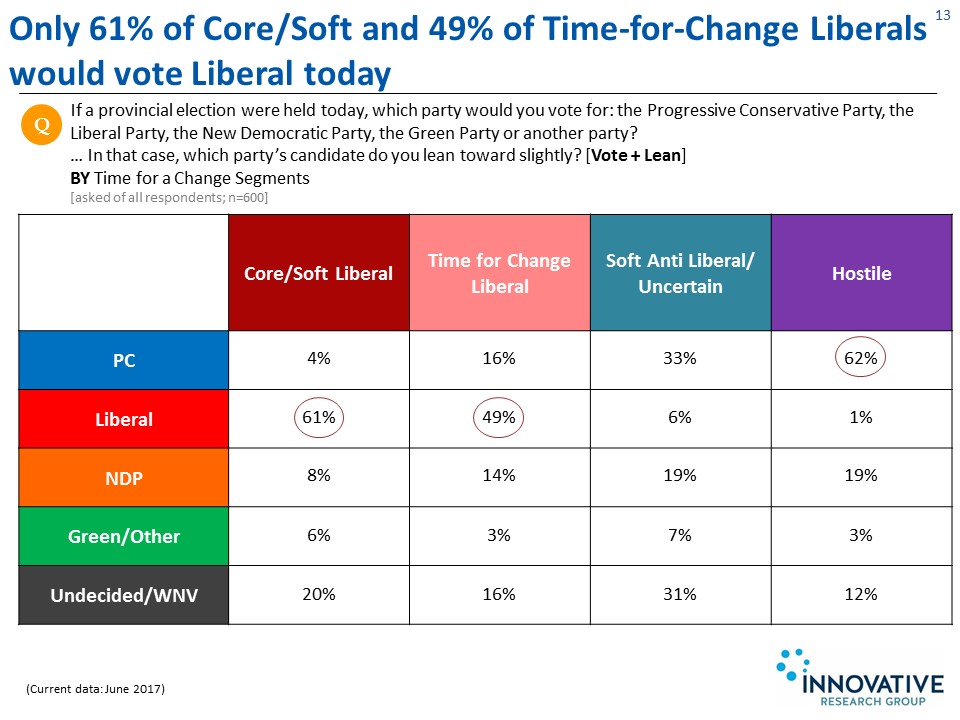 Brown and Wynne show small improvements in image
On leader brand, there is no big news, just small changes.  Patrick Brown is slowly filling in his blank slate with favourable. While more than half (53%) of Ontarians don't recognize or know his name, this is down from 65% when he became leader. Brown's net favourable have gained four points to +13 with a two point increase in favourable and two point decrease in unfavourables.
Most Ontarians still do not have a favourable impression of Kathleen Wynne (net favourable: -34) but this is an 8-point improvement from February. The change has come mostly from a 6-point drop in unfavourable views.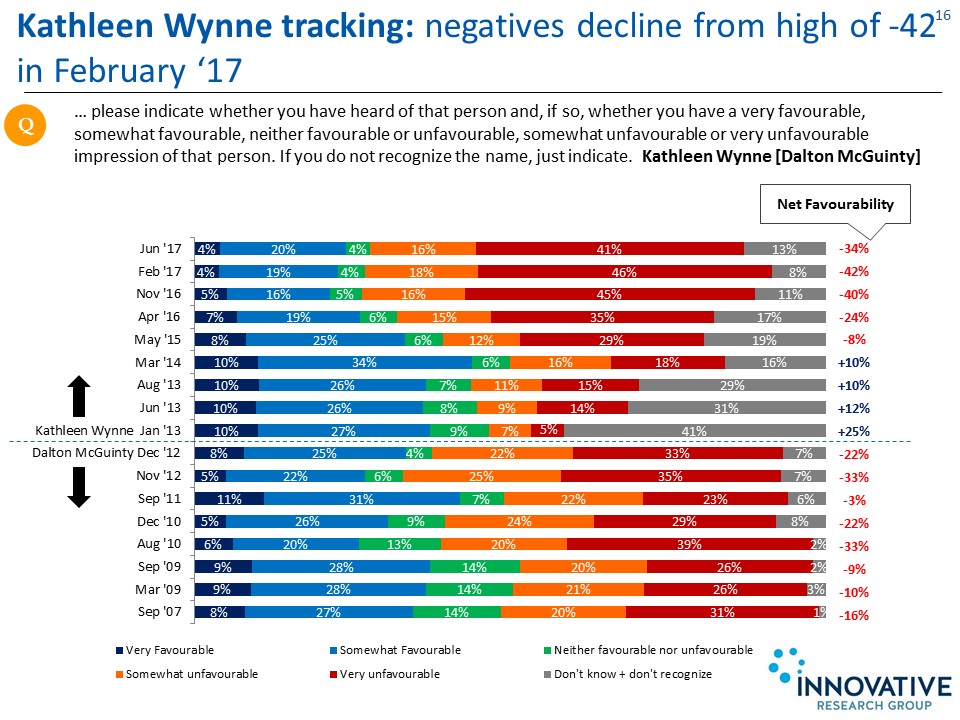 Andrea Horwath enjoys the most positive image of all three leaders with a +17 net favourable but she is actually dropping in her overall awareness with 44% saying they don't recognise her, up 6 points from the winter.
Brown (23%) is currently ahead as Best Premier with Horwath (18%) in second and Wynne (15%) trailing in third.
Liberals rebound in Toronto ridings and the West GTA while the PCs cement their hold on southern Ontario.
Our quarterly regional tracking shows that while the overall provincial numbers look quite similar, important regional shift have firmed up the Liberals competitive position while the Tories are strengthen their hold on much of the rest of Southern Ontario.
In Centre Toronto, the Liberal lead has increased by 11 points this quarter. At 42%, the Ontario Liberals now hold a healthy 15-point lead over the PCs in Centre Toronto;
In Outer Toronto and Toronto West Metro Belt, marginal PC leads have shifted to narrow but significant Liberal leads;
In Toronto North/East Metro Belt, Southwestern Ontario, South Central Ontario, and Central Ontario, the PC leads have grown to at least 15 points;
In Eastern Toronto the PCs have maintained a steady 3-point lead;
And Northern Ontario is now up for grabs, virtually tied between the PCs (34%) and NDP (33%) with Liberals (25%) showing a distant third.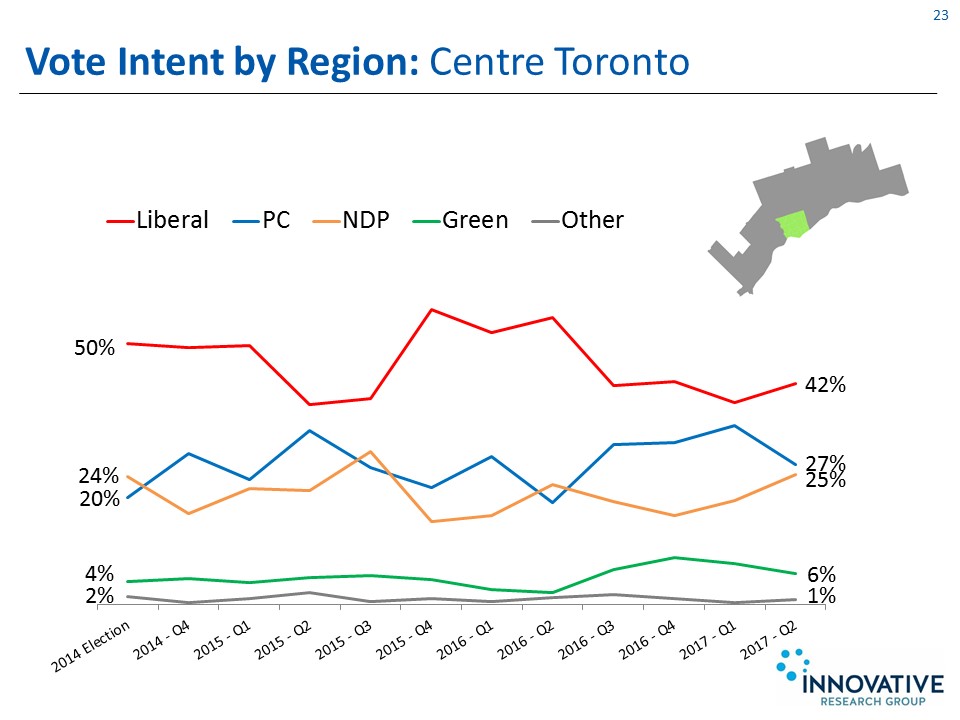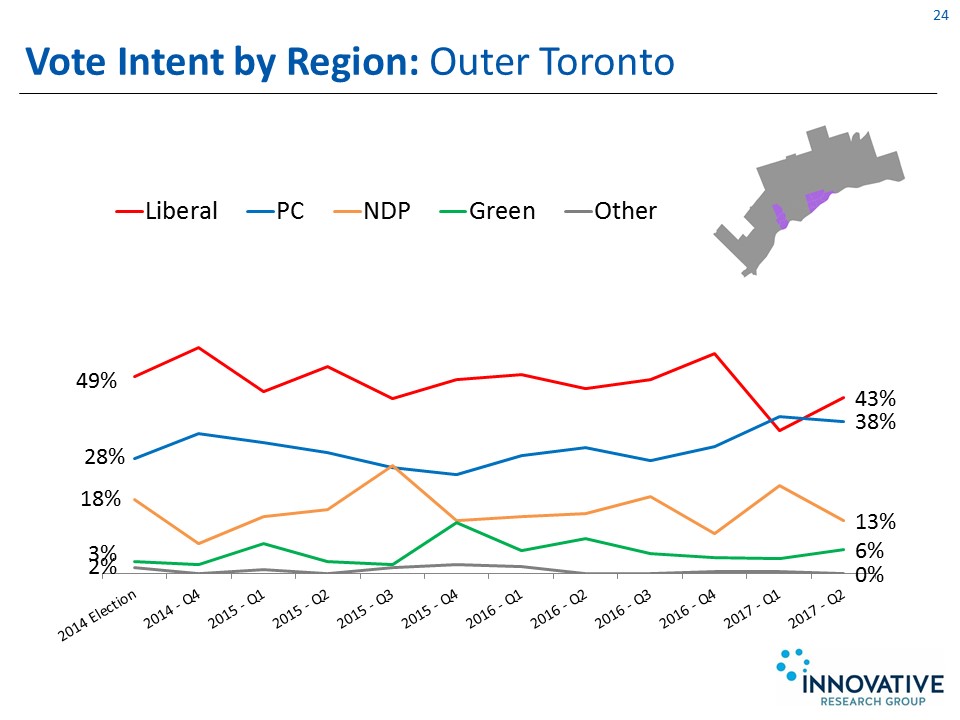 To read or download the full public report, please fill out the form below.
INNOVATIVE also offers private briefings, with additional data and depth, specially tailored to the issues that matter to you. To learn more about our INNOVATIVE Insider Briefings, click here.



About this study:
Innovative Research Group Inc. (INNOVATIVE) polled 600 Ontario residents through a mixed landline and cell live caller survey from June 13th to the 27th, 2017. The margin of error for June's data is +/- 4.0 %, 19 times out of 20.  Our-in-depth coverage by region is presented on a quarterly basis (n=1800) with a lower margin of error per quarter: +/- 2.4 %, 19 times out of 20.